Information in English
Association of Friends of Youth Ajdovscina is a voluntary, non-profit and non-governmental organization, which endeavours for the wellbeing of children, youth and families. Programmes are going on through the whole year and are focused on target groups from the wide public. The emphasis is on the equal possibilities for all participants and free participation as a rule.
Among constant activities there are the following projects:

Children's parliament
Readership club
Entertainment at the day of the family (15th May)
Excursions
Holiday programmes
Humanitarian actions
Study circles
Week of the child
Meeting of famililes
Merry December
Theatre shows
Projects with volunteers
Promotion of voluntary service in the local community
Cooperation with organizations and associations with similar
programmes.

Association of friends of youth Ajdovscina in legally organized as an association and therefore does not have employment posts on an active list. Each year, we apply at the programme of public works at the Slovenian Institute of employment. We have been incorporated in public works for over 12 years now. Our association consists of a president of association, two employees, one nonresident employee and established network of volunteers, who are mostly students and are constantly involved in programmes. Besides, we have permanent co-workers (students, sport trainers, social pedagogues, sociologists, special pedagogues).

Office hours are from Monday to Friday from 9.00 till 12.00 and from 12:30 till 15:00. Workshops and other events take place also on Saturdays and Sundays.

The programmes for participants are free, their basic charateristic is non profit. We try to cover all the expenses with donations and gained funds. In case our activities are payable, this is just for covering basic material costs for realization of acitivities. Our mission is that all children, youth and families can freely join our acitivities, courses, summer camps, and we focus also on children and parents from socially handicapped families.
Our target group is children who attend primary school (age from 7 do 14). We try to enlarge our activities also to young people and pupils of secondary schools.



»THE EUROPEAN VOLUNTARY SERVICE - ACTION 2 - YOUTH IN ACTION«

We have first heard of EVS at the Youth Council in Ajdovscina. It links all associations in Ajdovscina, which deal with youth programmes. In 2005 our HEI was approved. From March 14th 2007 till August 17 th 2007 we hosted a volunteer from Turkey, in project »The free time of children and youth in Ajdovscina«. It was very positive experience and we are looking forward to host a new volunteer.
Our object as a host and coordinating organisation is to »refresh« the local scene, and to draw attention on voluntary work in public and to link local associations with experience of international voluntary work. We believe that working with children and youth in their spare time is crucial for their growth and development of healthy, active lifestyle with quality spare time patterns. Besides, it helps to develop voluntary work as a value and strengthens the values of solidarity, tolerance and intercultural learning. The meeting point of different cultures would in our opinion be a great step towards the exchange of experience between the youth and these would be of help in the field of new practices on working with young people. Last but not least, meeting of two cultures would be a precious experience of the value of multiculturalism in the sense of mutual benefit. The volunteer will be given the opportunity of informal and occasional learning, he/she will achieve positive consciousness of other cultures, he/she will develop a sense of tolerance, constructive dialogue and solidarity.

Since 2007 we have hosted 3 EVS volunteers in the project "Free time of children and youth".

In 2007, from March till August we hosted a volunteer Murat Varlik from Bursa, Turkey. His sending organisation was European institute for social work, consuelling and professional training, from Istanbul. Murat helped at our free time activities, leaded creative workshops specially on field of theatre and puppet making, had wonderful and delicious turkish cuisine workshops and was very enhtusiastic about sports activities (football!) and outdoor games. He visited many schools with presentations of his country and with different creative workshops.










In hot July 2009 we got another volunteer, Latvian Zanda Brikmane from Saulkrasti for a period of one year. Her sending organisation was Radi Vidi Pats from Liepaja. During a year Zanda had a lot of presentations at schools and in local community about her country and culture. There were many occassions to taste Latvian food she prepared, also together with another Latvian living in the neighbourhood artist Alina Asberga Nabergoj. Together they also organized exhibition of Alina's paintings and cultural programme with cuisine evening for all guests in Vipava. Zanda was simply brilliant in leading many creative workshops for children and youth, she even helped a lot in study circle of Russian language for adults. Together with other volunteers at association she made a colourful brochure of letters pupils of elementary schools sent her in literary competition »Letter to Zanda« and drawings of younger pupils of elementary schools in drawing competition »My country – part of EU.« Zanda collaborated also with elementary school of Danilo Lokar in Ajdovscina in a project »European village« where a group of pupils for whole school year discovered natural and cultural treasures of Latvia. They presented Latvia in Nova Gorica in May at the day of Europe. Project with Latvian volunteer was estimated as an example of good practice by our National agency Movit NA Mladina.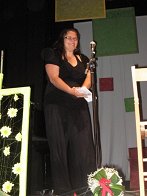 In 2011, from February till December, we hosted a Spanish volunteer Emilio Morillo del Castillo- Olivares from Madrid. His sending organisation was AIPC Pandora from Madrid. Emilio brought Spanish temperament in all activities, children enjoyed in his company while doing some sports activities, outdoor games or creating in workshops. He visited many schools with his presentations of Spain, taught some Spanish language to secondary school pupils and leaded study circle of Spanish language and culture for adults. He spent most of the summer at summer camps at seaside and created interesting brochure »Volunteer's world« seen from eyes of many volunteers – describing volunteering from different point of views. Together with another EVS volunteer from Spain they organized Spanish movie evenings with discussion and socializing.